St. Patrick's Day is this weekend, so dig out your green clothes and get ready for some food coloring laced beer. I'll be at home enjoying my last pre-baby moments, so drink one for me. Sláinte!
SATURDAY, MARCH 16
Catch Atlanta's 131st annual St. Patrick's Day Parade. Get the deets
here
.
A Social Mess's 4th Annual LEPRE*CON
A Social Mess presents the 4th annual LEPRE*CON 2013! Last year they had a small gathering of 4000 people and this year will be even bigger! The party is from 3 pm till late. The Spring Break Stage is BACK and they are making the contest more illegal full of debauchery. They are also bringing in the original Beastie Boys DJ (RIP MCA) – DJ Hurricane to our hoopla because he can party. Get your ticket now because they have to shut of presale tickets at 2000 ('til we know the weather permits!). This party has everything...contests, DJs, half nude chicks, wet tshirts, Bud Light, Shots, Bunions, and a Foam Pit.
Tickets are $31. Get 'em
here
.
Atlantic Station - Shamrock the Station

ShamRock the Station is back for the second year at Atlantic Station. The party will take place on March 16 at 12 p.m. in Central Park with fun for the whole family. Children can enjoy Irish dancing, games, face painting, balloon art and a special Nickelodeon meet and greet until 4 p.m. Meehan's Public House is sponsoring premium and craft beer stations with drinking games for the 21 and up crowd. The party doesn't stop when the sun goes down, turn your attention to the stage for live performances from Red Letter and Endless Fridays, Desire and the headliner, Tonic.
Tickets are $10 pre-sale and $20 at the door, you can purchase tickets
here
. For more information on Atlantic Station and ShamRock the Station visit,
http://www.atlanticstation.com
.
Ri Ra St. Patrick's Day
Rock 100.5, Guinness and Absolut and RiRa The Irish Pub are teaming up and shutting down the street to celebrate St. Patrick's Day. This annual party will feature live music on the outdoor, main stage starting at 3pm with performances from Kontraband, The Armory, The Geeks and The Regulars along with the musical mixes of DJ DRTI topped off with a party crowd and aGuinness Beer.
Admission is only $10 in advance. You must be 21 or older for the RiRa St. Patrick's Day Party!
St. Practice Day at Fado Irish Pub
Don't miss the big pre-St. Paddy's Day party! Live Music, Guinness, & a Sea of Green will kick off the St. Patrick's festivities at Fado Irish Pub & Restaurant in Buckhead. Doors open early for 6 Nations Rugby Super Saturday – matches start at 10:30. Outdoor party starts at 6pm! Irish dancers and live music from Paddy & Marty and the U2 tribute band, Desire. Get tickets
here
.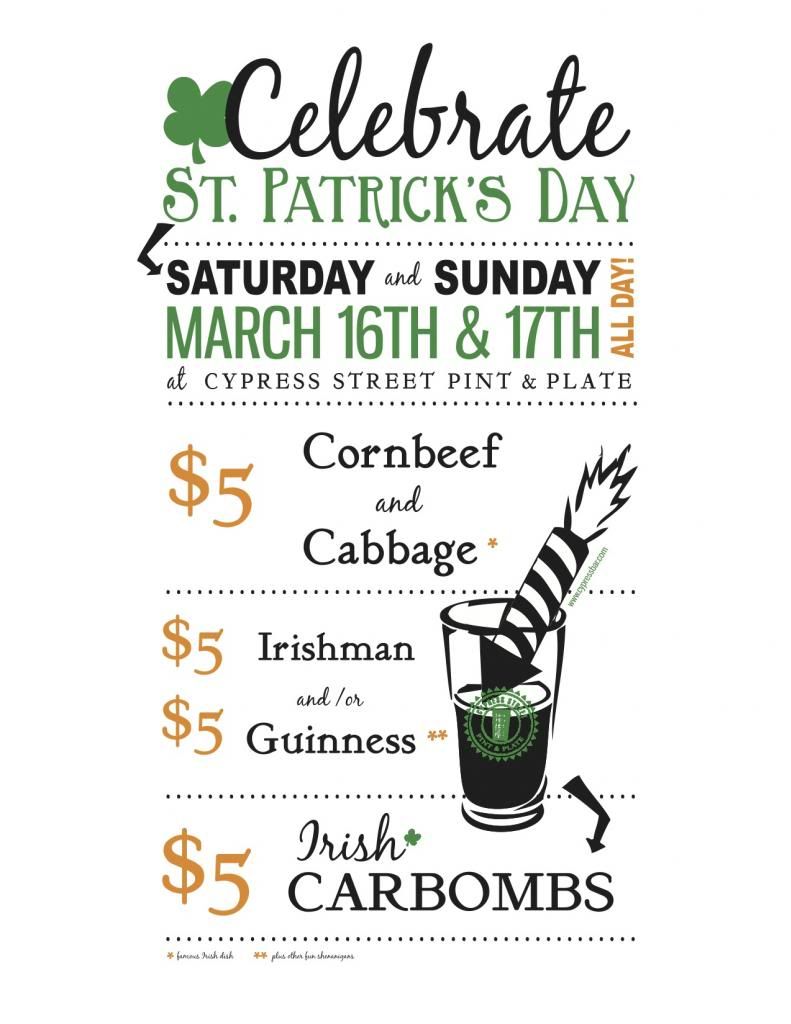 P'cheen International Bistro and Pub St. Patrick's Day 3-Day Celebration
P'cheen International Bistro and Pub will kick off its St. Patrick's Day festivities early this year during a multi-day celebration beginning at 9 p.m. on Friday, March 15 and continuing through Sunday, March 17 until 11:30 p.m. All weekend long, executive chef Alex Friedman will serve up an assortment of authentic Irish fare, including fish and chips, corned beef and cabbage, Guinness lamb stew and Irishman Irish Cream crème brûlée. As always, there will be no shortage of drink specials to wash it all down with, including Guinness, Irish car bombs and more. The fun continues on the patio, under a huge tent lining Highland Avenue that will feature rotating DJs spinning throughout. The weekend will conclude with Sidewalk O'Sunday, a very special Irish-themed edition of P'cheen's popular weekly Sidewalk Sunday series. For more information visit, www.pcheen.com or call 404.529.8800.
SUNDAY, MARCH 17

Ecco's Irish Sunday Share
Instead of drinking green beer and wearing funny hats this St. Patrick's Day, join Ecco's next communal Sunday Share dinner where you'll partake in a meal that celebrates true Irish foods like smoked haddock, donegal pie and calcannon. The cost is only $47 per person (including tax and gratuity). Get tickets
here
and see the full menu
here
.
Porter Me Up Cupcakes at Smallcakes
Through Sunday, enjoy a St. Patrick's Day collaboration between Smallcakes and SweetWater Brewing Company. It's a combo of Chocolate Cake and Butter Cream Frosting and SweetWater's Exodus Porter. It's just $3 at Smallcakes stores in Buckhead, Marietta, Valdosta and Woodstock.
Meehan's Public House - Atlantic Station St Patrick's Day Party
Meehan's Public House in Atlantic Station is throwing an authentic St. Patrick's Day party that will turn anyone Irish for the day. You can enjoy traditional Irish Dancers and carnival games and live music featuring headliner, Yacht Rock Schooner. Get here early for a 10 a.m. six nation rugby game on the TVs and cover will be $10 and start at 2:30 p.m. There will be plenty of Irish food and drink specials to get you into the blarney spirit! For more information visit
www.meehansatlanticstation.com
or call (404) 249-7812.
17th Annual St. Paddy's Day at Fado
Expect more than 3000 part-goers at the 17th Annual St. Paddy's Day celebration at Fado. Doors open at 7am. Start your morning off with a traditional Irish breakfast! The massive outdoor street festival starts at noon with Irish Dancers, Bagpipers, Andy Birdstall, Secret Sauce, Astral Freaks and U2 tribute band, Desire at 9pm! Get tickets
here
.
The Albert - St. Patrick's Day Food and Drink Specials, 11 a.m.
The Albert will celebrate St. Patrick's Day with food and drink specials fit for a true Irishman. Guests can enjoy Chef Shaun's special house-made corned beef and cabbage as a $10 sandwich or a $14 plate for double the satisfaction. Don't forget the beer! After all, it wouldn't be St. Patrick's Day without a little Guinness, so the Albert will be offering up the "Irish Life Combo," featuring a Guinness draft paired with an Irishman Whiskey shot for $7. Throw on some green attire, grab a Guinness, and join the Albert as they say "sláinte" to being Irish during this daylong celebration.
For more information, visit
www.thealbertatlanta.com
or call 404-872-4990.
D.B.A. Barbecue- St. Patrick's Day Food And Drink Specials, 11:30 a.m.
Voted one of the best places to celebrate St. Patrick's Day in the Highlands by The Virginia Highland Patch in 2012, the favorite neighborhood barbecue joint, D.B.A. Barbecue, will defend their title by serving up great Irish-themed specials all day long beginning at 11:30 a.m. on Sunday, March 17, 2013. Guests can enjoy house-made corned beef and pastrami with braised cabbage for only $14, sure to satisfy even the toughest of critics. In addition to their extensive collection of brews, guests will be able to wash their meal down with the popular Irish brew no true St. Patrick's Day celebration would be complete without, Guinness. D.B.A. For more information, please visit
www.dbabarbecue.com
or call 404-249-5000.