There are so many great dining events this month. I've got a mountain of apples to peel and turn into butter right now, so I'll break this into a couple posts. Here's the first batch of yummy events!
Supper Club Benefitting Atlanta Community Food Bank at Opulent
October 8
The owners of Little Alley Steak and Salt Factory Pub have added a new option to the already bustling Historic Roswell restaurant scene. They closed INC. Street Food and opened Opulent in its place. Come check out this Roaring Twenties style restaurant and help them support hunger relief efforts in the community on Tuesday, October 8, 2013 from 5- 10 p.m. when they host Atlanta Community Food Bank's Supper Club fundraiser.
Grand Opening of da Via
October 10
This Thursday is the Grand Opening of da Via, a new fast casual Italian eatery, and in honor of that, they are giving away a free piada (Italian street wrap) an da beverage to customers visiting between 11 and 2.
WHERE: da Via, Perimeter Place Shoping Center; 4511 Olde Perimeter Way, Suite 800; Atlanta, GA 30346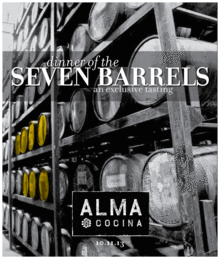 Seven Barrels Tequila Dinner at Alma Cocina
October 11 at 7 pm
Alma is known for its custom barrels of Herrardura tequila that they travel to Casa Herradura in Mexico to personally taste, approve and bring back to Atlanta. They've held a few bottles back from each barrel, and they'll be holding a one-of-a-kind tasting along with a four-course dinner.
AMUSE
Crepas de huitlacoche with corn-serrano sauce, corn crepes, crema, queso fresco ,pico de gallo, chives
FIRST COURSE
Market Fish ceviche with uni, yuzu, apple, tomatillo, serrano, avocado , avocado oil, cilantro
SECOND COURSE
Espinacas with garbanzos and caldo de espinazo, garnishes of chicharrones, chiles, lime, radish
THIRD COURSE
Whole Roasted Suckling Pig (vegetarian will be roasted butternut squash and huitlacoche ) with selections of mole negro, salsa verde, pico de gallo, tomatillo de arbol, fresh corn tortillas, fresh bacon-fat tortillas, queso fresco, crema, frijoles charros, mashed plantains, Brussels sprouts with Benton's bacon, chies, raisins and huitlacoche rice
DESSERT
Tres Leches and pumpkin churros
Additionally, Herradura's global brand ambassador, Ruben Aceves, will be in attendance to discuss his passion for tequila and answer your questions.
The cost is $65 per person.
Atlanta Underground Market Fall Festival
October 12 11 am - 8 pm
AUM is participating in a fall festival complete with live music, beer, corn maze, pumpkin patch, hay slide, Imperial Opa and local artists. Starting Monday, you can see a sneak peak of the menu on their
Facebook page
.
As always, food items will be $1-$5. But unlike normal AUM's, admission is free and it's an all day event so join us for lunch or dinner. Sign up for updates on their website to find out next Friday where the event will be held.
Taste of Atlanta - Oct. 25-27
Over 90 restaurants take over Tech Square for a weekend of tastings and demos It's your last day to get $5 off tickets. Find out more
here
. With everyone from Amura to Zocalo participating, there's truly something or everybody! Get your tickets
here
.